Israel's Labor Party and the Settlements: 1967- 1977
Support for settlement construction increased substantially when the Likud Party came to power in 1977. However the Labor Party, which had led the Israeli government from the country's birth and continued to lead for the decade following the 1967 war, was not altogether innocent. They were seeking a solution to the settlement issue, and at the same time, gave quiet support to settlement construction by providing some basic infrastructure.
Levi Eshkol , the Prime Minister during the Six Day War, tried to use the newly acquired territories as bargaining chips. Former Prime Minister Shimon Perez writes, "The Eshkol government suggested to trade land for peace in all three fronts, but without a response from the Arab side."
Arie (Hebrew for "lion") Lova Eliav was a high ranking cabinet official in the government of Levi Eshkol with a promising political future. He said:
"After the war, I asked Eshkol -- I said I'm no Middle East expert, but there's something new here, something unknown. I want to get to know these areas, and the people who live in them."
After six months of crisscrossing the Palestininian territories, visiting all the towns, villages and refugee camps, Eliav told Eshkol:
" .. there's a people there, a national movement with its own institutions, its own heroes. I suggested that I, with my experience in planning and development, would take care first of all of the refugees."
Elilav believed the Palestinians would become a hotbed of misery and extremism, so he proposed going into the territories with teams, including Palestinians, "to set up housing and proper professional education, there, in the West Bank and Gaza -- to do our best, and show what Israel can do."
From the Jerusalem Report:
In 1968, Eliav wrote a radical pamphlet called "New Targets for Israel." In it, he urged Israel to view the newly won territories as a surety for peace and security, not as an object for annexation. He demanded that the Palestinians be recognized as a national movement and the core of Israel's problems. Like the refugees, the pamphlet attracted little notice.
Eshkol died in 1969, and was succeeded by Golda Meir who ignored Eliav's pamphlet. Golda Meir was stunned when she read an interview with Eliav in Time magazine. The man who was her protege, the man expected to succeed Golda Meir as Prime Minister, fell from political grace.
Golda Meir was confronted, once again, with Israel's vulnerability in 1973 when Israel was caught off guard. The 1973 war, also called the Yom Kippur War, or Ramadan War, took Israel by surprise. It lasted for three weeks with thousands of casualties on both sides. The image of an invincible Israeli army from the 1967 war was shattered.
In 1973 and 1974 disputes over the blame for Israel's unpreparedness for the Yom Kippur War led to demands for new leadership and Golda Meir resigned in 1974. The war was a reminder of a fragile reality -- Israel, at its pre-1967 narrowest point, was a mere nine miles wide. The country could be too easily cut in half.
Itzhak Rabin became the next Prime Minister. With American mediation, disengagement agreements were signed with Egypt and Syria (1974), followed by an interim agreement with Egypt in 1975.
In 1992 he was once again elected Prime Minister. He played a leading role in the signing of the Oslo peace accords,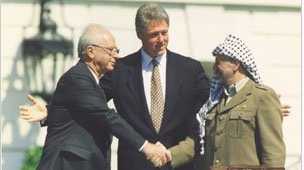 which created the Palestinian Authority and granted it partial control over parts of the Gaza Strip and West Bank. During this term of office, Rabin also oversaw the signing of a peace accord with Jordan. Rabin was awarded the 1994 Nobel Peace Prize, along with Yasser Arafat and Shimon Peres for the signing of the Oslo Accords.
But while working for peace, according to the French newspaper, Le Monde, the Rabin government cooperated with the Ma'aleh Adumim municipality in drafting an expansion plan. Ma'aleh Adumimt now the largest settlement with 25,000 residents, is a short drive east of Jerusalem.
A more recent Labor Party Prime Minister, Ehud Barak, was elected to work for an Israeli-Palestinian peace. While he and Palestinian leader Yassir Arafat were meeting with President Bill Clinton, Barak paid a visit to Maale Adumim where he pledged that the settlement would remain under Israeli sovereignty in any final status agreement.
It should be noted that Arafat responded to the peace talks by releasing violent prisoners and encouraging the infitada, or terrorist attacks against Israelis, to begin.
Last updated: January-2005